Paella for the People: Jaleo's Take on this Iconic Dish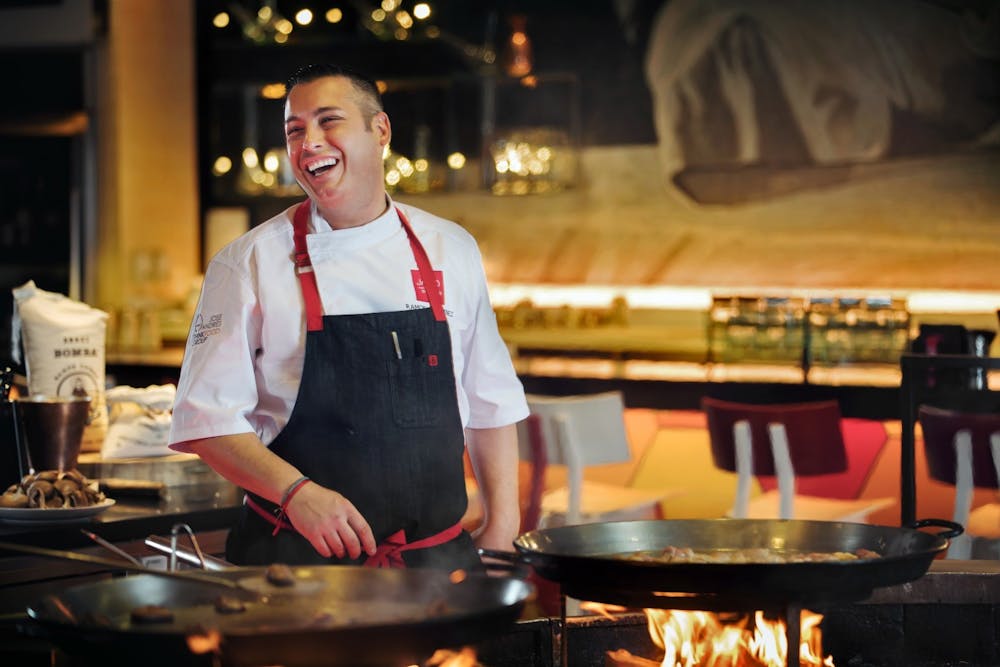 Ramon Martinez, Senior Director of Culinary at Jaleo
Paella fans, unite! Despite its humble beginnings as a dish cooked by farmers and herders in Valencia and Alicante, paella is now celebrated for its mix of textures and flavors — and it's known around the globe as the symbol of Spanish cuisine. There's even a paella emoji!
At Jaleo and our other Spanish concepts, paella is an important menu staple that's been perfected over the years. Chef Ramon Martinez, Senior Director of Culinary at Jaleo, is one of the experts who has helped ensure that our paella is the best in the world, and that each one is a true representation of Spain.
So let's start with the basics – what is paella? The answer is actually a little more complicated than you might imagine.
"Paella started in a very humble way, in Valenciana," says Chef Martinez. "It's made with chicken, rabbit and romano beans, but when you make something else and call it paella, Valencian people will tell you it's not paella, it's arroces."
"Paella is the name of the vessel, so anything you put in it could be considered paella," but here at Jaleo, we decided that only the true Paella Valenciana would earn that title.
And for José Andrés and the entire team here at Jaleo, it was important to get the distinction right. No matter where you come from in the world, we want the experience to be as close as possible to what you would get in Spain.
"José is all about authenticity. When I arrived here, José would bring chefs from Spain to show us how to cook paella, and for him, it was important to make everything, not just paella, as authentic as possible."
Of course, for many of our chefs at Jaleo, their first experiences with paella occurred long before joining our team.
"I first learned how to cook paella with my mom. In Catalonia where I'm from, there's this tradition, where everyone has paella on Thursday. She would prepare the sofrito, the base, the stock, everything the day before and then we would eat it for lunch the next day. I was always so interested in the way my mom cooked her paella. And she would make hers with meat, mussels, different seafood...Everyone has a different way of making it."
As our team has witnessed on their own journey to better understand paella, people are full of thoughts and opinions on what makes theirs the best. José will be the first to say that those individual thoughts and opinions are what make this dish so iconic. "It shows it is a dish of the people," he says. "The very best food is food that tells the story of who we are and where we come from."
Hungry for more? Subscribe to José Andrés's newsletter on Substack and listen to the new podcast, Longer Tables!