Happy Anniversary, Jaleo!
People of Jaleo: today marks a very special day! On April 5, 1993—30 years ago!—Chef José Andrés first brought Spanish tapas to Washington, DC. Since then, his beloved small plates have made a big splash in the cities of Las Vegas, Chicago, Orlando and Dubai.
Jaleo has always been José's home—the place where he can be both Spanish and American, sharing the best of the country where he grew up with his adopted home. Over the years, the team has done some amazing things with the incredible people here; from sharing tapas with you all across the country (and world!), to serving José's favorite Spanish recipes (like his wife Tichi's recipe for gazpacho and his mother's croquetas), to carving the first legal jamón in America and creating one of the first authentic Paella Valencianas in America.
A glimpse into what Jaleo used to look like. Today, our bull, named Matepehu, hangs right where that light used to be.
Some of these team members have been with us on our journey almost the entire 30 years! Like Elmer, who has worked at Jaleo for 29 years (he started 3 months after we opened!) and Maria, who has been here for 29 years as well, are both from El Salvador and both moved to the US in the mid-1980s…and actually, Maria was just recognized by the Salvadoran embassy for her years of service to the restaurant industry! [link to news article?]
Looking back on the last almost three decades, Maria reflected about how no one knew anything about Spanish food before Jaleo, "The early guests, no one understood Spanish food, but today, yes of course. No one understood tapas. The people used to be surprised at the small dishes, and José would explain tapas at the table…that was the magic."
And what about how she feels to see Jaleo today, as compared to the early days when we were the only restaurant on 7th Street? "I'm so proud. For me, 29 years, I've been coming into this restaurant, and we see it full every day. For me…mucho orgullo."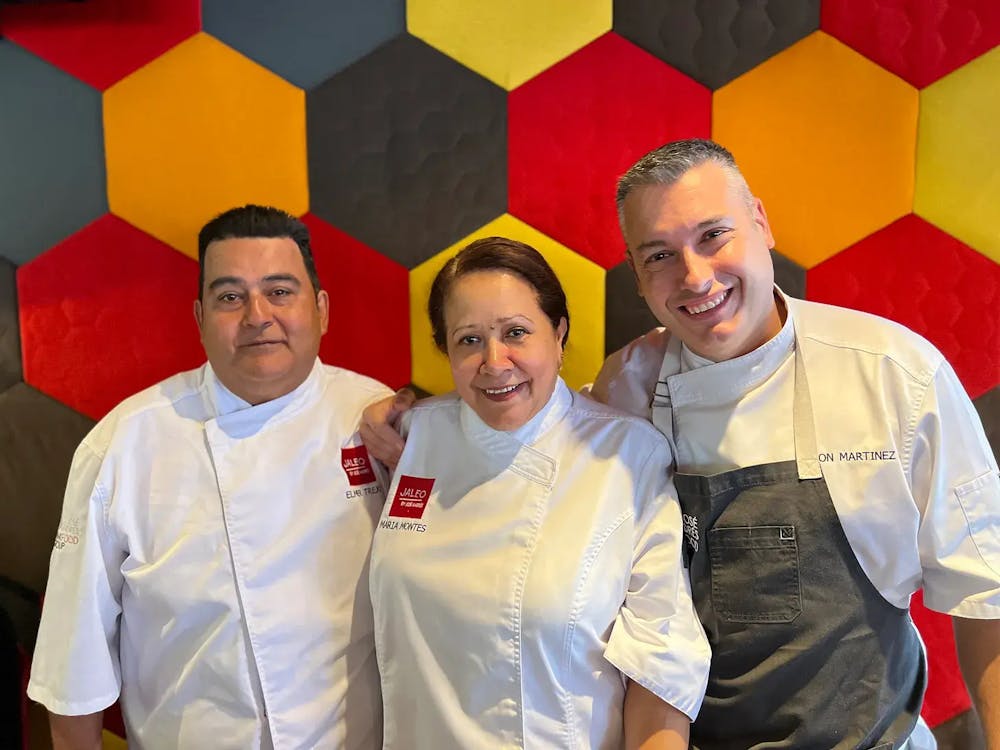 Elmer, Maria, and Culinary Director Ramon share a moment at Jaleo DC.
These folks, as well as team members like Ramon (who has been with us for 16 years and is the Culinary Director of Jaleo) and many, many others…they care so much about Jaleo, they are truly our family.
Felicidades on 30 años, Jaleo!